So I had a very exciting opportunity to do some event marketing in Punta Cana, which is one of the major cities in the Dominican Republic. Essentially I was hired to handle details, and make sure everyone had a good time, all while positively representing the company that hired me. What I love about working events is the hustle. Everything happens so fast which I think is fun! There's also an element of unpredictability that event marketing brings that keeps me on my toes, and enjoy immensely.
This booking involved a lot of firsts. It was my first out-of-country booking, the first time I've been to the Dominican, and the first time I've stayed at an all-inclusive resort. We stayed at the Melia Caribe Tropical in Punta Cana. But before I share my opinions on the overall experience, I want to make it clear that I am unbelievably thankful to have had the opportunity to travel some place new, do work I enjoy, and get paid to do it.
My thoughts are a little scattered, so I figured list format was easiest. Here's my feedback:
I thought the $10 (cash only) tourist fee at the airport was a weird way to welcome people to the country. It wasn't a huge deal or anything, but it just sort of felt like I was tipping a country before receiving service, and not something I've encountered before. Strategically, I wonder if it would benefit the DR more to ask for donations on the way into and out of the country instead.
It was nice to check into a resort and not "have" to pull out a credit card. However, even though tips were not expected or required, both myself and the group I was with quickly learned that you could get significantly better service when you tipped. This is was particularly critical when I was on the clock and needed to be at certain places at certain times. (Special kudos to Hector and Juan Pablo who busted their tails for our group!)
We were in the VIP section of the resort called "The Level." I thought the private check in was a great experience. They brought me to a private area and sat down with me at a table and checked me in (no line!), made sure I had a sense of where everything was, and placed a cute wooden bracelet on me to indicate that I was VIP. I thought the wooden bracelets were a nice touch - way better than those disposable wristbands!
Being a Level member allowed access to Level-only restaurants, and it's own pool, which was awesome. It also offered aromatherapy and a pillow menu for your room - but the process to take advantage of these room services was unclear, even when we asked for clarification. So we unfortunately didn't get to try those out. But it sounded like a neat concept. Level members also had golf cart transportation provided, which was extremely helpful!
I thought that for a resort as large as Melia Tropical Caribe was, that it was refreshingly easy to find your way around. There was tons of signage. They also had people posted outside throughout the whole resort in case you needed assistance with anything.
The pools were fantastic, huge, and beautiful. I found two of them, but there very well could have been more! The resort was that big.
The outdoor yoga area was beautiful. I didn't participate, but I saw several people taking a class. There was also a paddle board workout class that I would have loved to have tried but the weather and timing didn't work out. Although it was a little small, the gym was nice, and got the job done. I appreciated that the gym provided towels, water bottles, and fruit, too!
The beach was lovely. Light blue water, grainy white sand. It reminded me of Fort Lauderdale Beach, but with more sand. The water was warm, and bath-like.
There were peacocks everywhere, which I lovvvvved! I wish I had gotten a good photo of one, but they were all pretty camera shy.
The food was just "ok." This aspect of the experience was honestly a little disappointing, but everyone had a great sense of humor about it. There were a few jokes about some of the culinary "surprises." But I will say that the ambiance and decor was pretty cool at each place I went to. My favorite was The Gabi, pictured below.
I liked my room a lot! My favorite parts had to be the 4 person jacuzzi that was open to the bedroom, and the outdoor seating. It was a bit damp feeling inside the room due to the insane humidity outside (it's a villa style resort, so each room opens to the outside). But that didn't really bother me.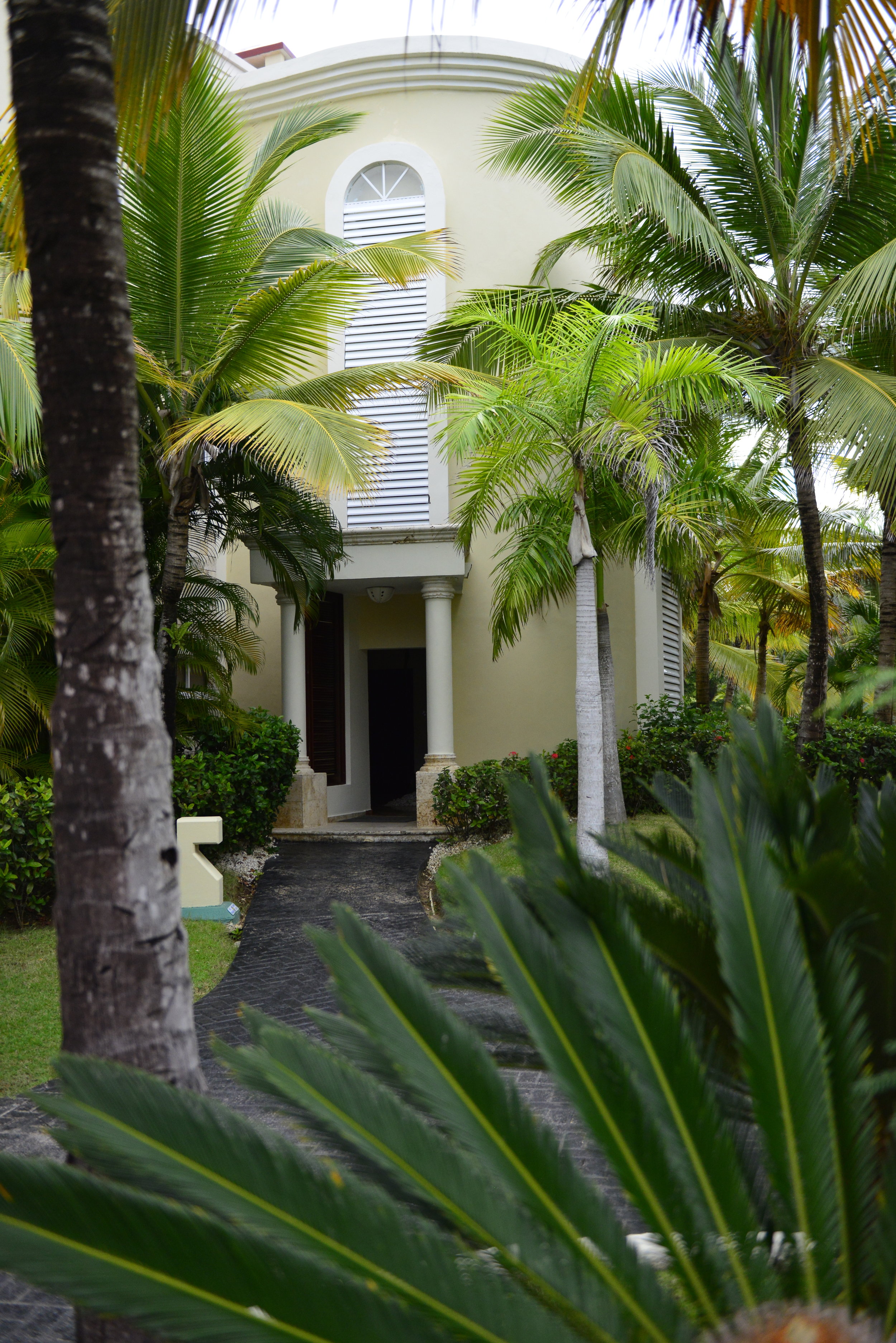 The Dominican Republic was a place that I'm glad I got to see and experience, but I don't necessary have a strong pull to go back on my own time/dime. But if I were to go back, I'd probably want to try a different resort just so I could have something to compare this experience to. I also would try to allow for some more time to explore some areas outside of the resort. It's also worth mentioning that if you are learning Spanish, this is a wonderful place to practice speaking it. Everyone I spoke to in (minor and basic) Spanish seemed to appreciate that I tried. La práctica hace la perfección! (Practice makes perfect!)