I recently had my first visitor, my friend Laura! I met her last spring while traveling through Hungary, Austria, and Czech Republic. Leading up to her arrival, I was bound and determined to figure out as much as I could about the island so I could be a proper host. It was a good motivator to get out and explore on my own, especially after Brett left for his 30 day rotation. For this post, I figured instead of a standard blog format, that I would do a Q&A with Laura!
But before I get to that here is a quick rundown of what we did in a span of 4 nights/5 days: Biked to St. George's, ate at Wahoo's in St. George's, Clearwater Beach, Cooper's Island Nature Reserve, Biked to and across then causeway, found Blue Hole, Crystal and Fantasy Caves, Swizzle Inn, Explored and had lunch in Hamilton, Fort St. Catherine's, Gates Fort, Tobacco Bay, Dockyard, Rode the ferry, Rented scooters and zipped around the whole island, Elbow Beach, South Shore Beaches, Horseshoe Bay, The Unfinished Church... and a few dark n' stormies in between! We accomplished an insane amount, especially considering the lack of car. It was a grind, and I'm pretty sure neither of us would have had it any other way! Anyways, here's the Q&A!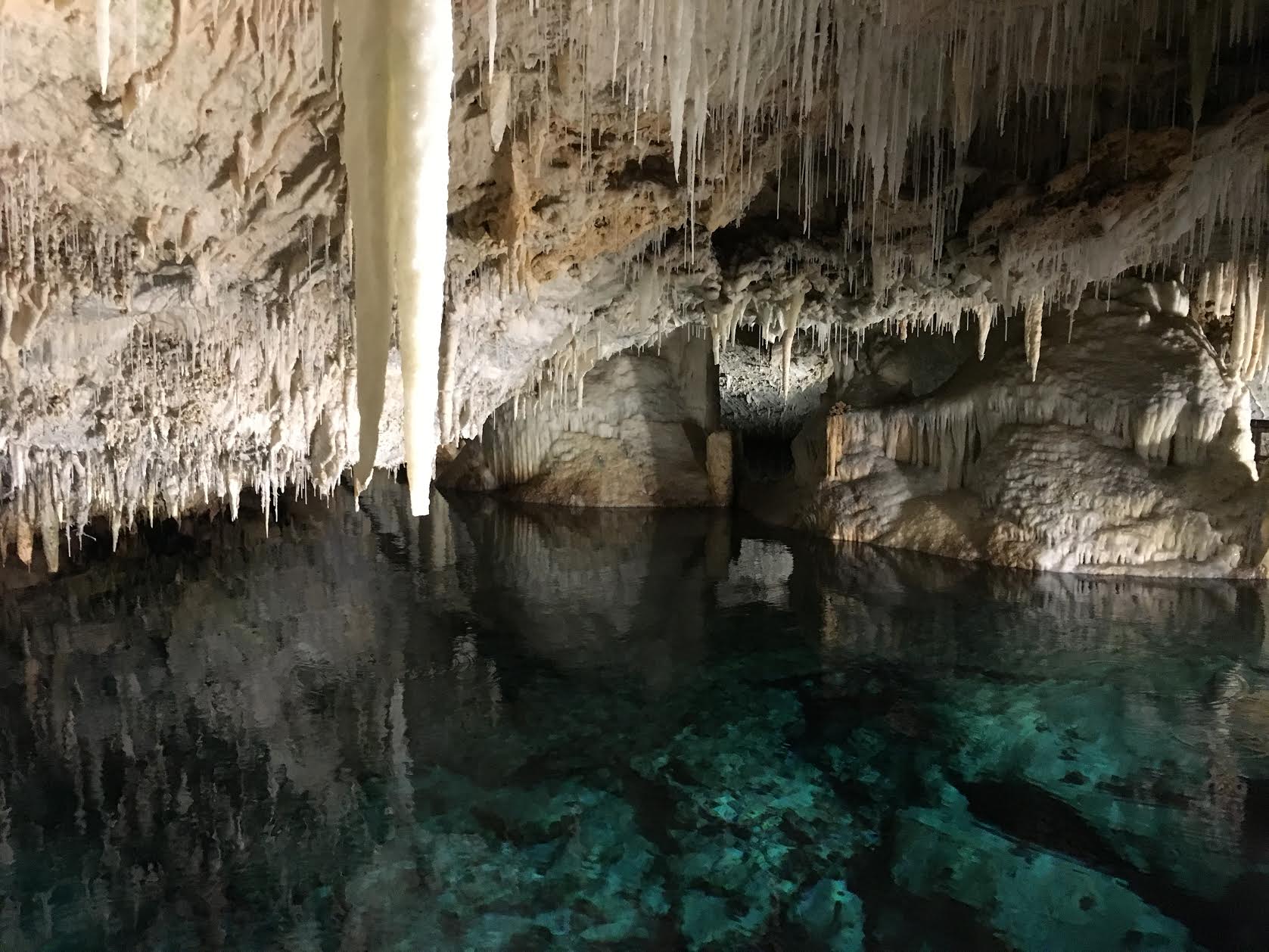 Why did you choose to visit Bermuda?
A friend of mine, Dana, who I met while traveling through Eastern Europe last year, moved to Bermuda and I went to visit her. This was a great opportunity for me to explore a new part of the world I had never been to before.
Was there anything you did to prepare for this trip that you'd recommend for other people to do?
Dana and I were great travel partners in Eastern Europe and have a similar travel approach to a new place - explore as much as possible, which sometimes means exploring until we drop! So, because I knew pedal biking was a main method for transportation in Bermuda, and that we both liked to explore, I joined a spin studio for a month ahead and took several classes. This worked great for me because my body was used to biking by the time I went and it made it so much easier to cover ground on the island (and boy did we cover ground!)
Joining a spin studio may be a bit much for most Bermuda visitors, so if you know you are going to be doing a lot of hiking or biking or walking, getting a few more steps in the weeks leading up to the trip will help condition your body and make it easier to adjust to the activity levels.
I also did some basic searches on things to do in Bermuda so I knew ahead of time what my must do's were. This helped because you can't always do it all.
What were your trip highlights?
The BEACHES were by far my favorite part of the island. The colors of blue are simply amazing and the sand is unbelievably soft.
One of my favorite spots to enjoy the beaches were on Cooper's Island. It was walking distance from Dana's house and had alcove after alcove of beaches, most of which were empty and had amazing views. For over an hour on the first full day I laid on a beach which I had all to myself and listened to the soft crash of the waves. It was amazing.
Another highlight was the Crystal Caves and Fantasy Caves, my preferred being the Crystal. The natural beauty of the crystal formations is remarkable and it was fun to hear about the story behind the caves.
Did anything surprise you during your trip?
The brilliance of the colors of the water surprised me, it almost at times looked like the water was being illuminated from below. My cab driver from the airport told me that it's a lot of work every morning to dye the waters and make them so blue. ;)
How friendly the locals were and how proud they were of their island. This was evident in the conversations we had with cab drivers, cashiers, locals on the bus and everywhere in between.
Any advice or lessons learned for future visitors of Bermuda?
Bermuda is small but it's not the easiest island to get around. To have the most access to all parts of the island with flexibility, the best transportation is your own 2 feet or 2 wheels (either pedal bike or scooter). This can be physically demanding. Our days ranged from 26,000 steps with lots of walking/biking/exploring to an easier day of 3,000 steps and laying on the beach and getting around by scooter.
Also, if you are relying on public transportation knowing the schedule is key. One day we thought we could just "zip" out to Dockyard on the ferry but when we got to the Hamilton station, we realized we had just missed a ferry and the next one would be 1.5 hours later! And if we waited for that one, it would be the same ferry that was the last one to return back. So, we instead took an hour bus ride out to the Dockyard and had just enough time to explore the area before catching the last ferry back. So, if your days or activities revolve around public transportation - make sure to check the schedules!
On the same thread, it's important to know the hours of operation for places you are visiting. Many things close early at night (5 or 6), and may not open until 10am. Several places are closed on Sundays, and some places have seasonal hours. We also found that several websites were out of date, so trusting the online information was not always dependable.
What's the number one thing you'd tell people who were coming to visit Bermuda to do?
I think one of the biggest draws to Bermuda is the beaches and the water, so my number one recommendation is to spend time at the beach! And explore as many beaches as you can, because they all offer something unique and beautiful.
On your next trip, what do you want to do?
This was something Dana and I discussed, since of course I will be back! There are three things that I think I would like to do on my next trip:
Snorkeling or Scuba Diving - there are so many great spots around the island that you can pretty much pick anywhere and see something.
Dockyard - I would want to go back here and spend more time meandering through the shops and enjoying the scenery. Given our bus/ferry situation, we were a bit limited on time here.
BEACHES - you can't get enough of these, I think I would try to explore other parts of the island we didn't before and find new private beaches to enjoy